If you are looking for the best electric fencer then like the battery fencers the number one thing I would be looking at is joules the measurement of power that the fencer is putting out. The higher the joules the better the fence will be able to cope with and burn off vegetation. The other things to consider are brand and price and unfortunately the higher the joules and better known brands will generally cost more money.
You also need to consider what you are going to be using it for like if you have a small area fenced in for some pigs in the back yard then any small fencer will work and some can be got through amazon or eBay for as little as 50 euros but if you have a large dairy or beef farm or need to hold in a field of bulls then it would be worthwhile investing in a proper powerful fencer that will serve you for years to come.
In my view if you buy a fence too powerful for your needs it might be wasting some money but it will still work on the other hand if you but that's not powerful enough it will never work properly and definitely be a waste of money. When you take the lifespan of the fencer could be twenty years or more then over time it's a small enough investment over time.
I am not going to list a top 10 or even top 5 here but instead just list some fences that you could consider depending on your requirements and budget
A. L Electric Fencing
(click image for price)
Although the fencer is not a well-known brand name for the money it comes in at very good value for a fence that puts out 9000 volts @12 joules as well as being British made and comes with a 12-month warranty. This fencer will cover up to seventy miles of fence wire and will be hard to beat on price. If buying from Ireland it could also be worth setting up parcel motel or address pal to save on postage costs when buying some items from the UK.
VOSS.farming Electric Fence
The Voss.farming range of fencers are another range that offer very good value and would probably be my personal favorite as they seem to be well-made and at a very good price. It is made in Germany and comes with a 3 year warranty and has lots of excellent reviews. I would go for the NVI 15000 model which has 18 joules of stored energy and 11500 volts and puts out 14 joules which is enough to cover 90 km of fence wire.
Even with heavy vegetation it claims to work on up to 10km of fence wire and at this output it should have the power to burn off grass and some vegetation that's touching the fence wire as it is claimed that over 10 joules has the power to kill vegetation that comes into contact with the wire. Overall this fencer seems well-made and offers excellent value for money
Gallagher M2800i Mains Electric Fence Energizer
The Gallagher is a well-known brand worldwide that have a long history for making quality fencers. I have an older model on my own farm with probably the last 30 years and it's still going strong. The M2800i is one of their top of the range models and comes with all the bells and whistles that you could want on a fencer but all this comes at a price that you have to pay extra for compared with some other brands on the market.
The M2800i can cover 58km of fence wire and has a stored energy of 21 joules while it doesn't state the amount of joules that it puts out they do suggust that it automatically adjusts the output to suit your fence conditions while minimizing power consumption. It also comes with an external monitor display that can be kept up to 200 meters away from the fencer that allows you to adjust track and monitor the state of the fencer and you also get a remote control.
Up to 5 extra monitors can be added for different circuits if needed and you can also have an extra option to get a text message sent to your phone when there is a fault. All this comes at an extra cost and really depends on how much you are willing to spend.
There are cheaper Gallagher models like the M1800i which puts out around 10 joules but you are still going to pay for a premium well-known brand with a reputation like Gallagher fencing
AL Electric Fence Energizer 3300i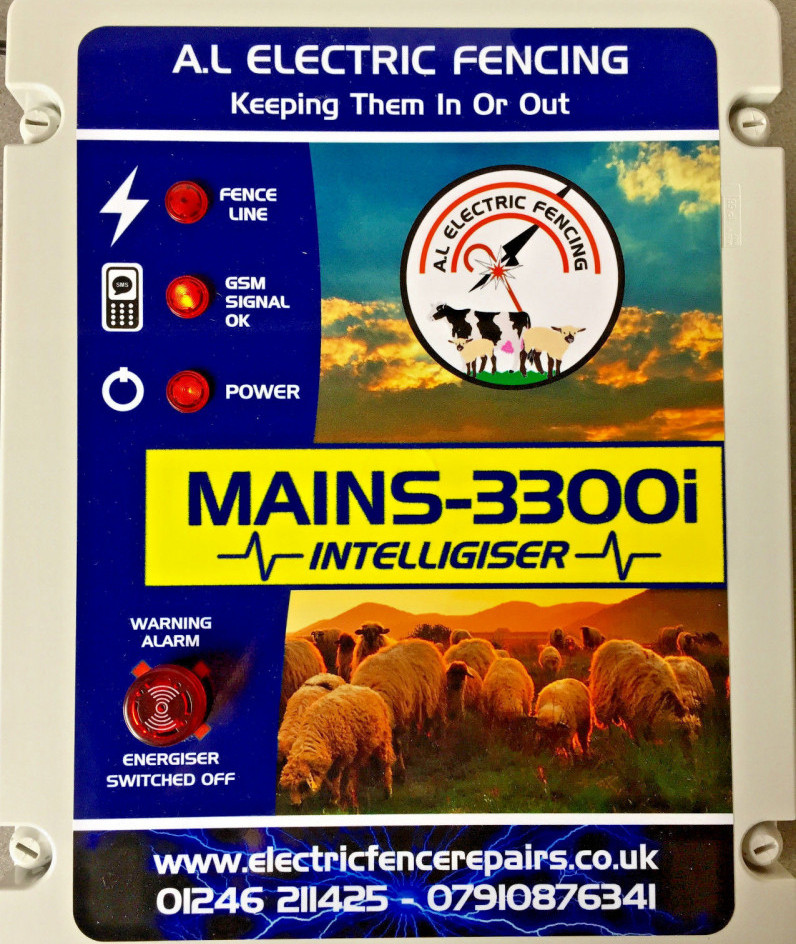 (click image for price)
This 3300i model from AL electric is a real power house of a fencer with 33 joules and 8000 volts which also has a built in GSM controller enabling you to turn the fencer on and off using your mobile phone and also has a built in fence off alarm. While it has not got a name like Gallagher and might not have extra high tech external controllers it does give you more bang for your buck. 33 joules is massive power that should hold an elephant in the field and to be honest I think any more power could be downright dangerous.
I certainly would not like to test this fence by touching it even with a healthy heart I would imagine that you would not try it a second time. The price while not cheap is still very good value for the powerful fencer on offer.
Whatever fencer you decide on will depend on your own circumstance and how much land you need to fence. Personally I would try the Voss.farming models for the price and power if I was buying one for my own farm, but again it all depends on what kind of animals you are trying to keep in and the area you want to cover. For more information about electric fencing and it's history you can read more here