Just to discuss some farm water systems and options available to farmers. In a country that rains so much you might think why but it could possably be helpful to someone and water is the one thing livestock can't do without for long so better to have something in place for a summer when it is needed.
The first and most obvious solution would be to bore a well or connect to a public water supply which is what the vast majority of us have already done. This is the perfect long term solution for the home farm or where you have an electrical connection.
Gravity System
In some cases however we might be just renting the farm or need water in a remote area without access to a water or electricity. In that case my first choice would be a gravity flow system. Find a water source at a higher elevation on the land and collect it into a tank or container having a pipe at the bottom of the container feeding to water troughs or taps below.
A water source could be a small stream an old blocked spring well or even a damp patch in a field. Wells are often marked on old ordnanance survey maps and a bit of work with a digger could possibly get them going again. This system can work very well and supply trouble free water for many years once it is initially set up right.
The one thing I would suggest with this system is that some trickle of water is flowing all year round and have some type of filter to help keep mud or small stones out of the pipe system.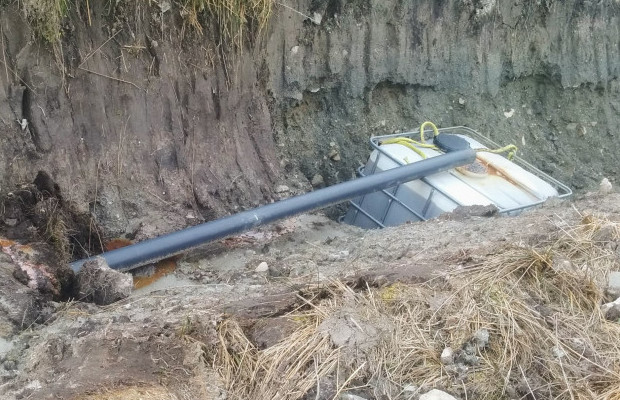 If a gravity flow system is not an option then you have some other options but the higher altitude you can source water the better. The first system for pumping water I would suggest is what's called a pasture pump or sometimes referred to as a nose pump. The pasture pump works well for certain situations if you have not many animals and don't need to pump water too far.
It will lift water around 8 meters and is pumped by the animals nose. Cattle and horses apparently quickly learn how to use it and there is little to go wrong as it is a simple enough setup with few moving parts. It does have some drawbacks in that it will only supply water to around 20 cattle and is not suitable for pumping water long distances but in the right setup it is well worth considering
Eider grazing pump, livestock drink, E2, self-drinking water for cattle and horses, easy to walk for cattle and horses, 1 inch connection for pipes or pump hose
---
Another option is solar which can pump water over longer distances, the pump can be connected to a 12v battery which could then be charged with a solar panel. A cheap pump like the one below called Bacoeng is almost certainly a Chinese brand but that wouldn't put me off if you needed a budget pump to move water without electrical power. It could be connected to the battery of a jeep or tractor to pump water from one place to another or to fill a large storage water tank.
BACOENG DC 12V Submersible Water Pump Solar Water Pump with 6m Cable, 26FT Lift
If you needed to run the pump full time they would recommend a 100w solar panel and 12v battery. Although I personally feel that this pump is probably more suited to move water a short distance from one place to another like filling a large storage tank which could then feed onto a water trough for the animals. It has a 1″ outlet and will pump 26 gallons of water per minute.
SISHUINIANHUA DC12V/18V 180W Max Head 40M Submersible Screw Solar Powered Pump
In order to pump water to higher elevations or further distances then you would need a more expensive pump there are many pumps on the market but a submersible water pump like the one above should lift water over 100ft and like any submersible pump must be running under water at all times so is ideally suited to a deep well or dig a deep hole where you are going to have it set up the one thing i don't like about deep holes is that they might pose a danger risk to animals or people.
A possible way around that would be to have a collection tank for example an IBC tank with a float switch attached near the top so if the water drops below a certain level the power to the pump will cut over and protect the motor from running dry. The float switch would be then wired between the pump and the battery + solar panel setup.
I would recommend putting some sort of solar controller onto the setup which can be a simple cheap one if needs be. The reason for the controller is simply to stop the solar panel from over charging the battery in bright sunny weather. There are plenty options online and more expensive options like here on Ebay but at the end of the day it's up to your own individual circumstances which system will work best for you.
While I am not an expert on solar power or water pumps I have set up some of my own setups in the past without hiring an electrician as I felt confident working with a 12v or 24v setup as there is not any high voltage wires. That being said I am simply offering a guide as to how it is done. What somebody purchases is up to themselves as is the option of fitting it or seeking outside professional help.