So today I am going to talk about men's rubber boots not wellies or work boots but something lightweight and comfortable to wear on a day that it's too hot to wear anything else. I got this idea a few weeks back when I went out to move cattle from one field to another and not wanting to be sweating in a heavy pair of wellies I put on an old pair of slip on shoes and went out the door.
Moved the cattle no problem but as I was turning around closing the gap I slipped on some wet mud and suddenly found myself sitting on the ground doing the splits and it's a long time ago since I could do that. After a few seconds of shouting and cursing I got back on my feet covered in mud with my twisted knee and stretched hip ligaments and limped and hobbled back to the house.
I realized fairly quickly that it was my stupid slip on shoes that were the problem which had no grip for walking on mud and slippy surfaces. It couldn't be my fault or so I thought at the time so I had to blame the stupid shoes or the stupid cows.
It was of course in fact my own fault for not wearing the proper footwear and later when I was looking for other options available I thought there must be somebody else out there who wants this. Some light shoes or boots for a hot day that are both practical and have enough grip so you don't fall on your ass.
So after reviewing lots of different products on the market and finding it difficult to think of something else to write about here are my top 5 starting with the least expensive.
No.5 Dunlop Monocolour Wellie Shoe Safety Clogs
(click image for price)
OK so they look like a pair of wellies with the top cut off and that is more or less what they are.  These Dunlops are made from PVC with 2 cm rubber soles are flexible and upper is a bit thinner than a welly and comfortable to wear. Most importantly they have great grip so you don't fall on your ass.
Pity that they don't have a pull tab on the back like the other boots but still at around 10 quid are cheap as chips or at least as cheap as a happy meal anyway. This pair is in black but you can also get them in green. They have over a thousand positive reviews and while they might not look the most stylish they are better than cutting the top off a good pair of wellies and cheaper too. Do you really need to look that stylish around the farm anyway.
No. 4 Michigan Black Neoprene Garden Boots
(click image for price)
The Michigan neoprene shoes have a bit more style for a little more cost they are comfortable waterproof and easy to clean although some have found them to be a tight fit so maybe go at least a size up if you have wide flat feet. Again the Michigan shoes come in black or green and offer good value for money. I am not convinced about the grip either on wet grass or mud the dunlop seem to offer better grip at a cheaper price. still, worth the money for driving the tractor on a hot day.
No.3 Dirt Boot NEOPRENE shoes
(click image for price)
I can't help get the feeling that dirt boots are trying to compete with the better known muck boots at a cheaper price. While the muck boots are well-made I couldn't justify that price for a half a pair of wellies.the dirt boots on the other hand win out on price just about. There are a lot to choose from around this price range and the lakeland active or tengta shoes were in for consideration for my number 3 spot. Again I would like to see more grip for muddy or slippy surfaces but the have gotten a lot of positive reviews and beat the others on price. The dirt boots come in black brown or green.
No.2 Sloggers Men's Rain Shoe Garden
(click image for price)
The sloggers are a big jump up in price they seem to be a big jump up in overall quality too. Made in the USA they are comfortable and lightweight to work in all day long .They have good rugged grips too and come in brown or black.
Sloggers are not like wellies with the top cut off but look more like shoes and feel like slippers that you could almost wear on a night out on the town. For more information see there website on www.sloggers.com where they have all the styles you could want. They are cheaper in America than here in Europe which is one of the reasons they are staying out of my number one spot.
No.1 Rouchette Clean Land Adult Boots
(click image for price)
To look at rouchette boots you can see how well-made they are and why they are a cut above everything else even some that are more expensive than they are. The style is a bit like somewhere between an expensive wellie and a football boot. rouchette are a french company that make quality boots and wellies and of all I have looked at they are the ones that I am buying for myself. They come in two colours brown which is really green and brown and khaki which is green and beige
they have a removable thermal insole that can be taken out and washed or replaced as needed. The boots made from easy to clean rubber and have a gum rubber anti slip sole. Every other review I have read on this boot have people stating how light and comfortable that they are which is exactly what I want from a summertime boot.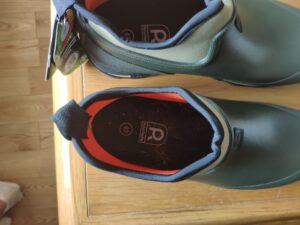 summary
What I was looking for before I started this article was a light comfortable summer shoe that I could wear all day long and not having to worry about getting them dirty or be picking my steps around the farm yard. Something light and flexible that would be easy to clean similar to a wellington but a boot that I wouldn't sweat in on a very hot day. Most of all something that has good grip so I don't have any more falls around the farmyard.
For me it came down to two choices the dunlops that are cheap as chips at number 5 or the rouchette boots that I would be happy to wear anywhere even if it was out on the town for the night. I thought my feet are worth the extra 30 quid so I went with the rouchette as I felt they were the right ones for me.
I will update this review once the pair of rouchette I purchased has arrived and let you know what I think.
If the weather gets a bit too wet and you need wellies instead see my top 10 here 
So just an update today the rochette boots arrived and while they have a thick heavy sole they are very light and comfortable to wear.  They seem good quality and well stitched together and the size fits me perfectly so other than that I can only give an update on what they are like after a few months of wear